About LuLu's 20,000 square feet of shopping fun!
Local family owned & operated since 2006, our desire is to provide a local spot where consumers can make money, save money & recycle!
We are thankful to employ a local staff of 30 that is a part of our family.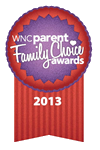 We are proud to have earned several awards from the Hendersonville & Asheville Chamber of Commerce, and 1st place in the WNC Family Choice Awards several years in a row. We have been featured in articles by Forbes & several local publications. We are also a member of the Association for Retail Professionals (NARTS).
Giving back to the local community has always been our priority, we give truckloads a week to charities that benefit the local community immediately. We currently are working to benefit Meals on Wheels of Henderson County & several school clothing closets. We have also been glad to help Empowering, Inc in Hendersonville, as well as several local fire victims.
 We work hard to provide the best consignment & shopping experience possible for you. Please take the time to go over our guidelines provided on our website prior to consigning. Your feedback is always welcome and we are constantly striving to improve. Please contact the owner or our Customer Service Team directly at shopatlulus@yahoo.com.
See You Soon!